Sourdough Bagels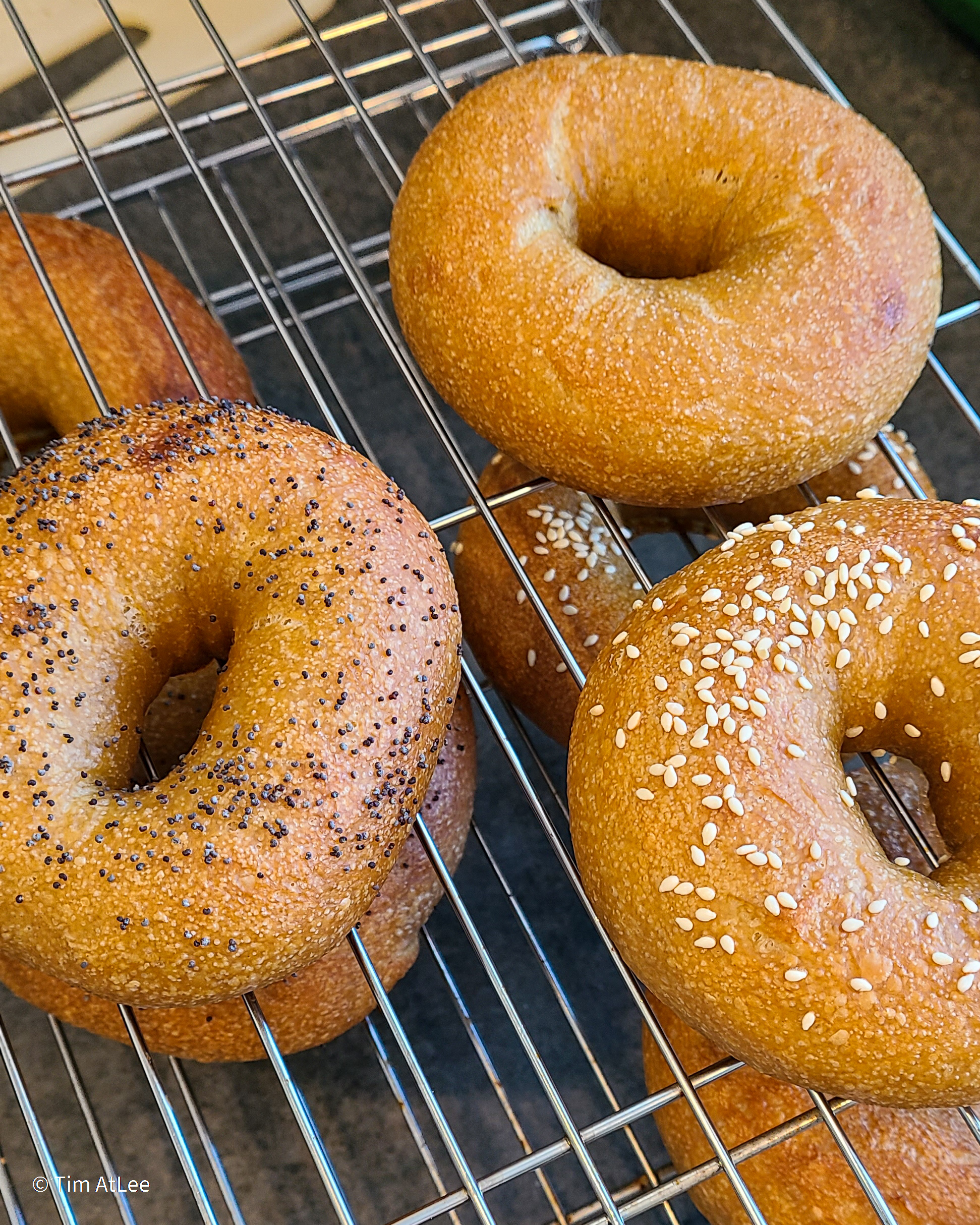 I have been trying various bagel recipes for a while, and not having a ton of luck. A lot of them seem to come out soggy from the water bath, which leads to pancake-like donut shaped bread objects, which have a reasonable taste - have an awful texture.
So when I went to try this recipe, I was sceptical, especially not being yeasted. However, they came out really nice, with a great crumb, nice tear and a bit of an (accidentally) crunchy bottom.
I made a dozen bagels from this.
Ingredients
220g active sourdough starter
360g warm water (100°F)
630g Flourist Sifted Red Spring Wheat Flour
20g honey
20g molasses
1 Tbsp salt
You'll also need the following for the bath:
1/4 cup granulated sugar
2 tsp baking soda
Optional toppings:
Sesame seeds
Poppey seeds
Salt
etc..
Process
Early afternoon (2PM) day 1:
Combine starter, water and flour in a bowl and mix until it becomes a shaggy mass. I did by hand, but no reason a stand mixer wouldn't work either.
Rest for 30 minutes.
Add salt, honey and molasses. Squeeze these ingredients in to the dough until mostly incorporated, then dump it on a floured surface and knead until smooth and elastic. I think this was 6-7 minutes.
Transfer to a lightly oiled bowl and cover. Rest for 30 minutes.
Stretch and fold the dough, and cover again. Rest for 30 minutes.
Stretch and fold again, cover, and rest for an hour.
Stretch and fold a final third time, and let rest for an hour.
Turn the dough out and divide into 8-12 bagels, or any many (or as few) as you want. 1
Working with each piece at a time, pinch and roll the dough into an 8" long log. Try to get the thickness as uniform as possible. Wrap the log around your 4 fingers, then overlap each end of the roll under your fingers, then roll them against the table to stick them together.
Transfer to a heavily floured sheet pan and repeat with the remaining bagels. Leave some room for some expansion.
Cover the pan(s) with plastic wrap and rest for 30 minutes.
Place in the fridge overnight.
Next morning, day 2:
Remove bagels from the fridge.
Preheat oven to 450f.
Fill a wide shallow pot with enough water for 2-3 bagels, and bring to a boil.
Prepare an egg wash.
Once the water is at a boil, reduce to medium-low and add the baking soda and sugar.
Prepare a sheet tray with a cooling rack for draining the bagels.
Prepare another sheet tray(s) with parchment paper for baking.
Take a bagel and lay it carefully in the water. It should float to the top.
Cook for 30 seconds, flip, and repeat.
Carefully transfer to the cooling rack to drain and dry.
Repeat with as many bagels as you can comfortably monitor.
Transfer the bagels from the cooling track to the parchment lined sheet trays, leaving a bit of room for expansion.
Brush with egg wash and cover with desired toppings.
Bake for ~20 minutes, or until golden brown and tasty.
Comments
I found the flour from the fridge pans stuck to the bottom of the bagel, then made a bit of a goupy mass on the bottom of the bagel after the water path. I tried to wash this off a bit, but didn't want to manipulate the soft doughy bagels, so I just ran with it. The flour/water mass, combined with the runoff egg wash, made a surprisingly nice crunch on the bottom of the bagel that I wound up not minding.
I think if I didn't want this, I would skip the floured pans in Day 1 Step 10, and instead put them straight on parchment or maybe a cornmeal / semolina'd baking sheet. Your call.
---
Larger bagels will float better in later steps. ↩︎